Fire in the Sky, Australian Winter Night Sky

Download Full Resolution (1919x1399) 3162KB
2,177
'Fire in the Sky, Australian Winter Night Sky'
[Public Domain] 25 Jun 2015 Dylan O'Donnell
CATEGORY : Astrophotography
2,178 others viewed this post.
I captured everything you see here in the last 30 days or so. Sometimes it's nice to sit back and look at all these things in context. Just a few of the highlights from the Southern Hemisphere in the Winter months!
I'll attach the wide shot below as well in case you want it. (Click for full resolution)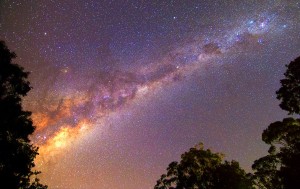 FIRE IN THE SKY
This photo of the Milky Way core was taken at 3200 ISO but has almost no ISO grain or noise because it's been stacked from 5 photos taken at the same time. This is "standard deviation noise reduction" to differentiate the signal (stars) from the noise (ISO / heat speckles) and remove them, which allows you to increase the contrast and brightness without increasing the noise. Taken from Byron Bay, Australia. Stacked using Nebulosity 4

Download Full Resolution (1919x1399) 3162KB