[Public Domain] 18 Jun 2016 Dylan O'Donnell
CATEGORY : Astrophotography, Notable
28,186 others viewed this post.
I got her again! The International Space Station flying past the moon tonight over Byron Bay, Australia with Tim Peake aboard, who prepares to return to earth tomorrow. I'm so happy to get this as it was cloudy all day and night, but cleared beautifully for the crucial split second so all my planning paid off! Almost exactly a year ago today I captured Scott Kelly in the ISS much the same way, but tonight I used about 50 x 1/1600 frames to also stack and mosaic the entire moon within a few seconds of the transit to show the full disc of the moon and a cleaner shot with full colour detail. The transit itself lasted 0.47 seconds. Woohoo! Taken with Canon 70D 1/1600 F10 ISO 500 with Celestron 9.25″ Edge HD.
Here is the close up for anyone who is interested, click to enlarge :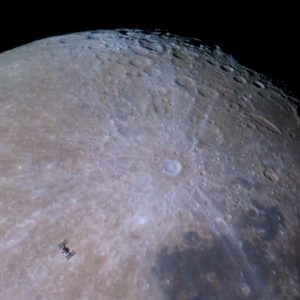 UPDATE – Thank you for all the coverage and shares across the world today, especially ESA as they cover Tim Peakes return to Earth! As promised, you can download a high res (5000x5000px) JPEG image here. And the RAW file for all the conspiracy theorists here.

Download Full Resolution (2048x2048) 2249KB