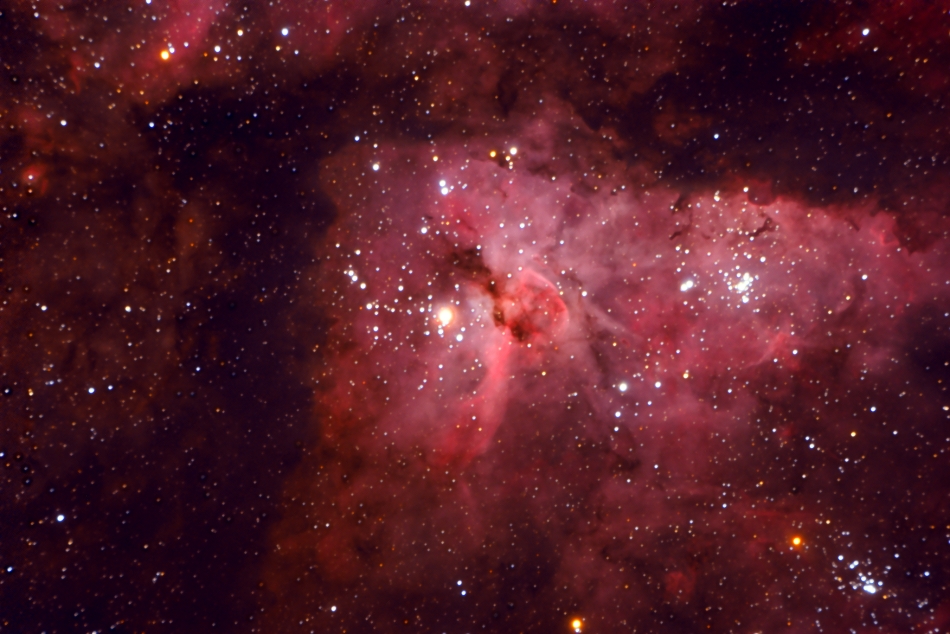 The Keyhole Nebula in Carina

Download Full Resolution (2048x1367) 2796KB
1,492
'The Keyhole Nebula in Carina'
[Public Domain] 30 May 2016 Dylan O'Donnell
CATEGORY : Astrophotography
1,493 others viewed this post.
Here is a total 1 hour integration of the Keyhole Nebula in the heart of the Great Carina Nebula tonight in one-shot natural colour. This is at 2350mm focal length / F10. This target has been great to see this season and will be about in the early evening for a little while longer in the Southern Hemisphere. I collimated the scope and re-tuned the polar alignment for 2 hours to get a good image but still got a fair amount of star bloat which caused some ringing. Still, it's a dramatic and dynamic image of a wonderful fixture of the southern sky. Celestron 9.25″ Edge HD / QHY12 OSC CCD 20 x 180s
In other news, my little backyard photo of Mars which I tacked onto my last email to you was hoisted up onto the front page of the European Space Agency website! As part of their "Image of the week" series they updated my comparison between my Celestron vs Hubble (!) with a third image from the Mars Express satellite as it whizzed past Mars 8 hours after my photo was taken. It's really left me a little breathless seeing my work next to NASA's Hubble and Mars Express. If you missed it, you can see the image here : Mars Triptych [ESA].

Download Full Resolution (2048x1367) 2796KB